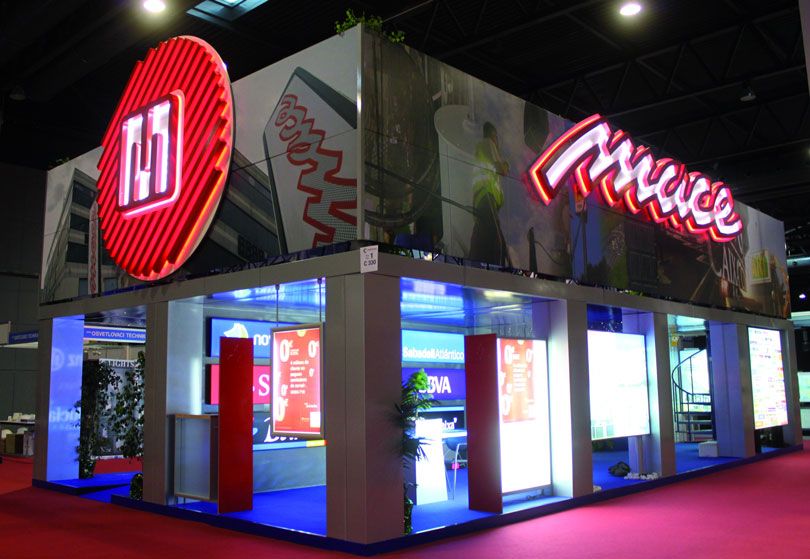 Rótulos Mace exhibited all their capabilities at Construmat
As at every edition, Rótulos Mace installed their stand at the Construmat Trade Fair. This year the event took place from 22 to 24 May at Gran Vía Fira 2, Barcelona.
The event brought together the elite from the construction and building materials sector. It is an indispensable appointment for Rótulos Mace and they have not missed any editions. As usual, at this year's event, Rótulos Mace had the privilege of receiving clients, friends and prospective clients during the four appointment days. In addition to being a business space for exchanging views, it became the ideal scenario for Rótulos Mace to entertain all those who had been their raison d'être throughout the year: customers and business partners.
Construmat 2013 allowed showing customers – current and potential – everything Mace can offer in the field of signage and corporate identity. Their capabilities range from the external image of tardemarks and companies to the interior design of spaces, covering signage requirements, merchandising and customer brand image.
Mace added one of their main assets to their extensive range of services in the signage and corporate image sector: their manufacturing capacity, so they can provide a complete service without relying on third parties, both for installing signs and implementing the corporate image of companies.
Mace presented all these issues to their visitors during the 2013 Construmat Trade Fair.